In Northern Vietnam, Ha Long Bay is a popular travel destination. It not only be known as one of seven wonders of nature, but also be printed on Vietnamese currency.
Its popular reputation attracts a lot of tourisms to visit it. I'm one of them. Take a ship to visit the stone on the sea. Pick this banknote and take a picture are so fun.
However, Ha Long Bay is gradually crowded. If you are looking for a wonderful nature tour and less "traffic jam" on the sea, you can try a new area "Lan Ha Bay".
---
Lan Ha Bay is located below Ha Long Bay and on the right side of Cat Ba island. This sea area is belong to Hai Phong province. (Not like Ha Long Bay belong to Quang Ninh province.) It's also why the departure location is from Hai Phong not Ha Long if you buy a tour.
---
Tour Package
This time I bought a 2 days 1 night tour via Era Cruise. The tour contains one room on a ship, 3+1 meals, kayaking, and visiting conservation area via rowing boat. After ordered it, I received an email to ask me if I need a transfer service. Of course yes, it'll save a lot of time to handle these.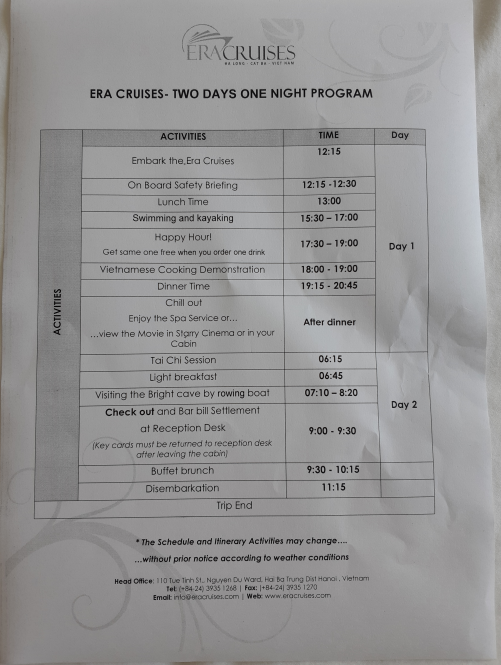 The 2 days 1 night schedule of Era cruise tour
Tour - Day 1
Transfer
[09:00] We took a 7 people limousine from old quarter Hanoi to Era cruise at Hai Phong. Around 2 hours to arrive.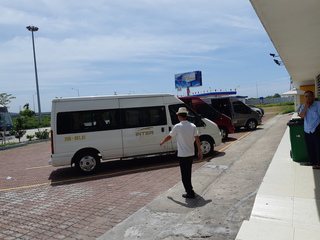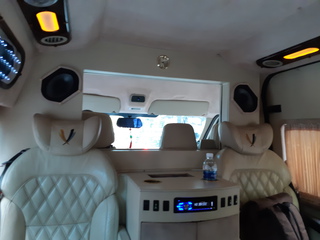 [12:30] Waiting the departure time at Era cruise office. Then took a boat to board on the ship.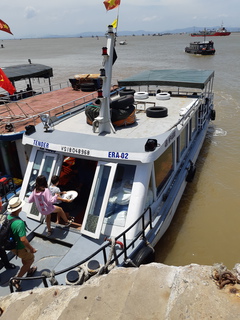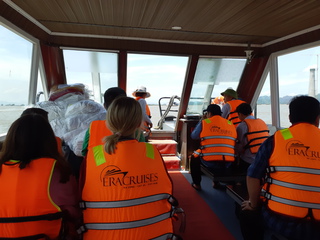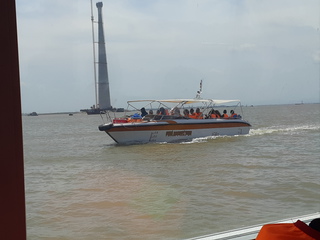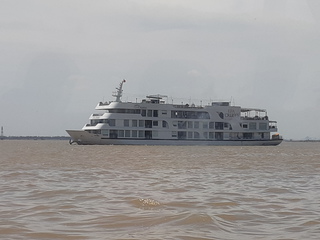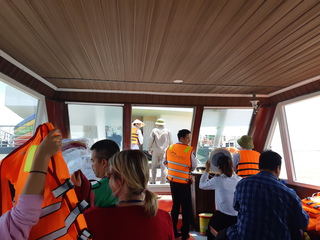 Lunch
[13:00] Forget to take a picture… The lunch is a buffet, has fish, fired rice, braised beef, shrimp, salad, fruit…
ps: drinks are extra charge, included bottle water.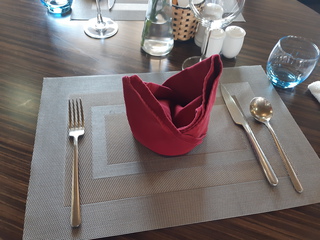 Kayaking
[15:30 ~ 17:00] One merit about Era cruise is that it's carried kayaking boats at the tail of the ship. So no need to take a boat to kayaking rental dock. Directly jumping into sea and have fun. They give us one small bottle of water per person and can be put in the both side of the kayaking boat. Very convenient.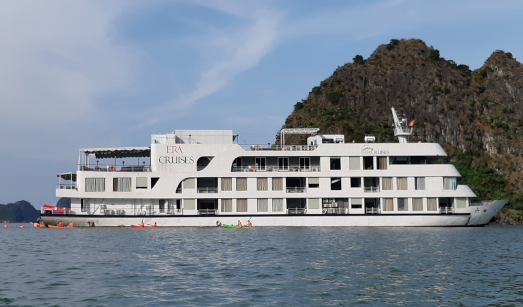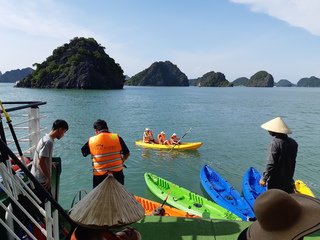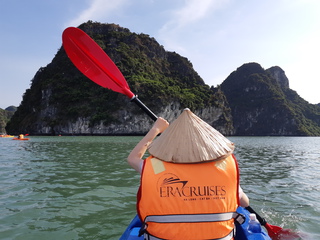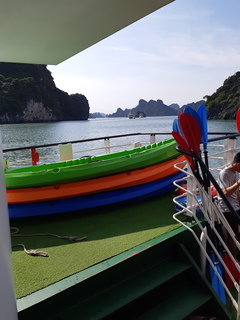 Bar drink
Happy hour: [17:30 ~ 19:00]
Ordering drinks during this time can get one more free drink.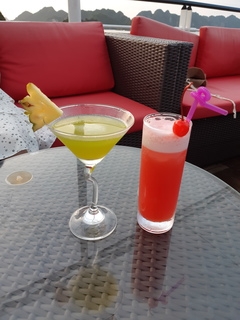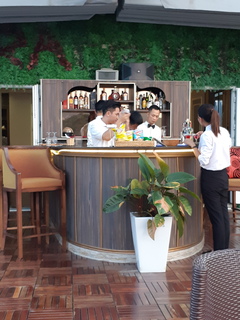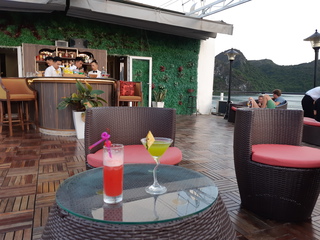 Vietnamese cooking demonstration
They demonstrated how to make Vietnamese crispy spring roll. It's quite delicious. 😋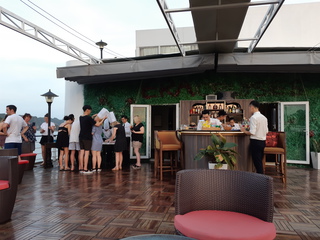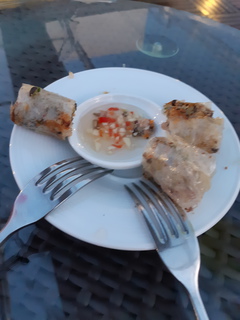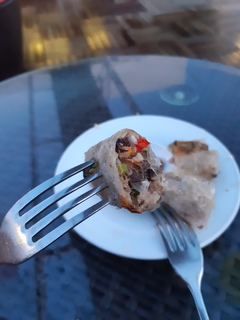 Dinner
[19:00]
Menu for dinner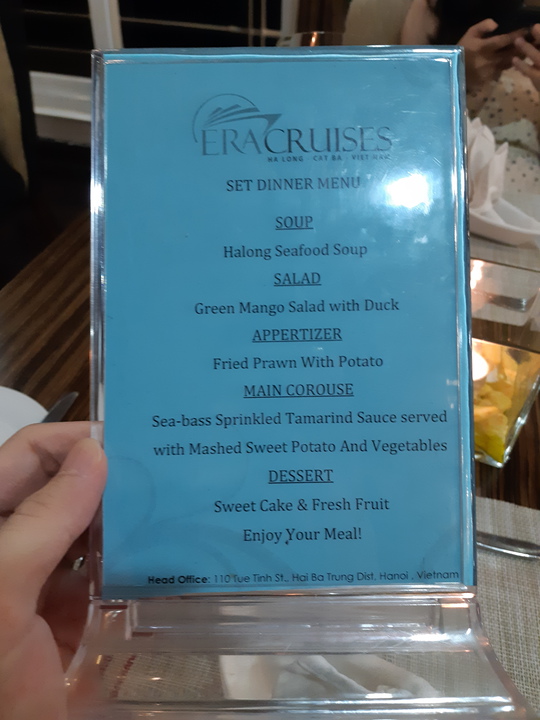 Soup: shrimp & mushroom soup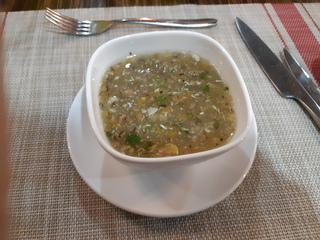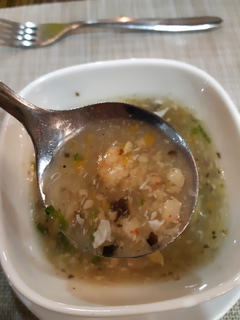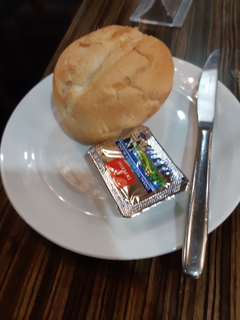 Salad: green mango salad with smoking duck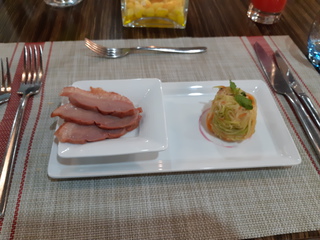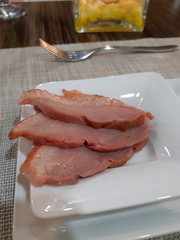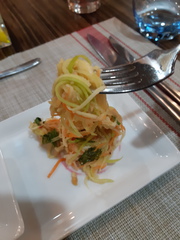 Appertizer: fried Prawn with potato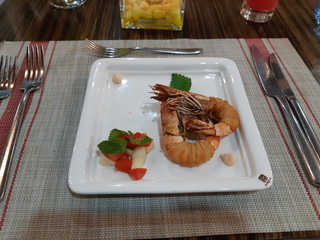 Main course: fish & potato & vegetable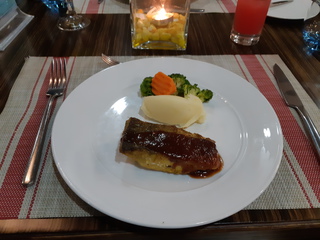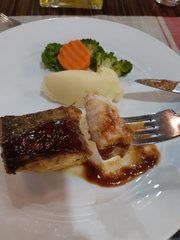 Dessert: cake & fruit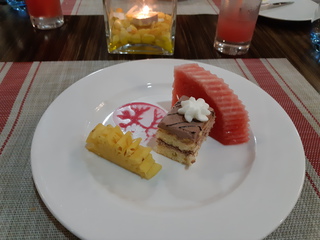 Drink: watermelon juice (extra charge)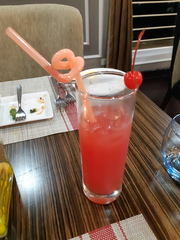 Night squid fishing
[21:00] We fishing at the tail of the ship.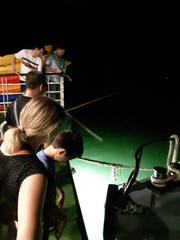 Tour - Day 2
Light breakfast
On the sundeck at 06:15, it has Tai Chi exercise, a slow motion exercise. But we slept late, didn't catch up.😢
[06:45] Few bread and fruit for early birds.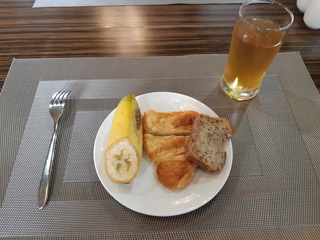 Visiting conservation area via rowing boat
[07:10 - 08:20]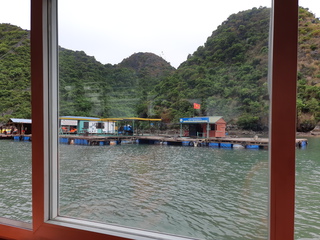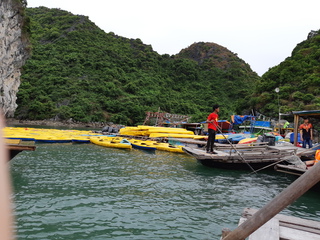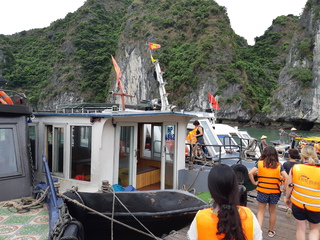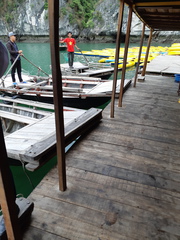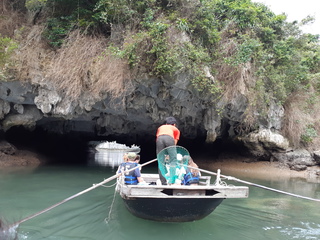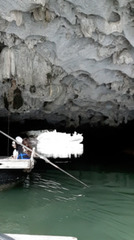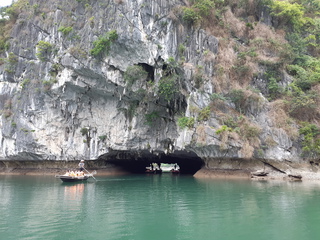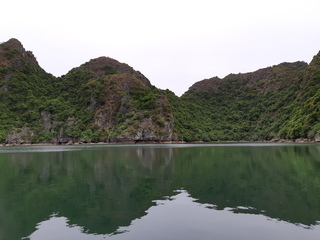 Check out
[09:00 ~ 09:30]
The air conditioner in the room will not work after 09:00. Then I know it's time to check out.
Brunch
[09:30]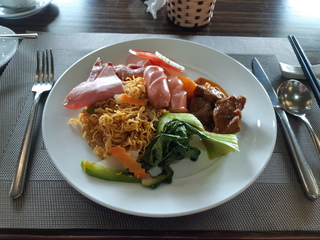 Disembarkation
[11:15]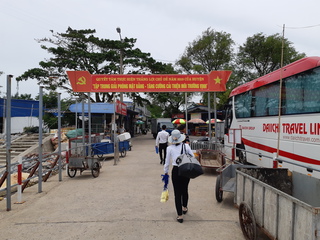 Trip end
Then we took a limousine back to Hanoi old quarter. Happy Ending. 😃
Ship facilities
Lobby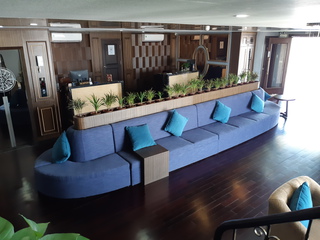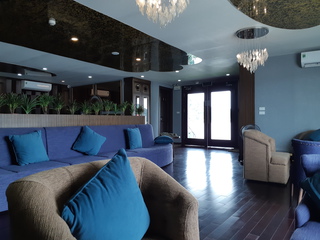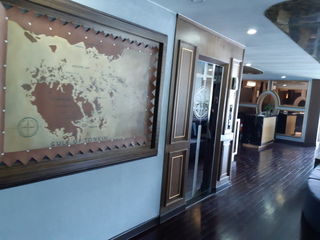 Sundeck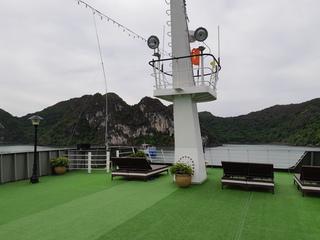 Bar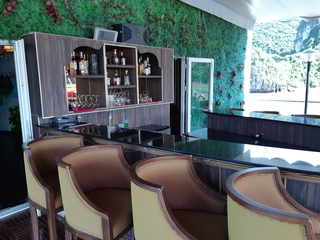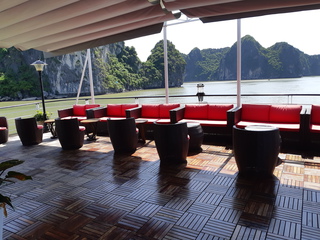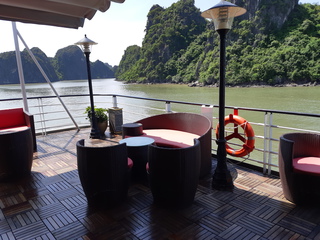 Cinema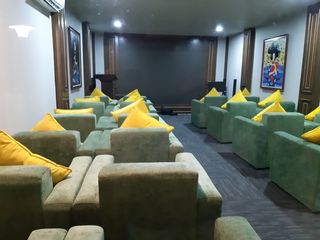 Gym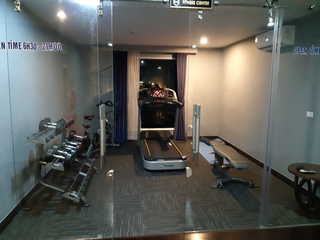 Room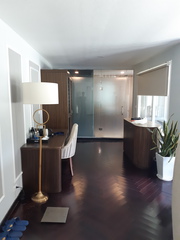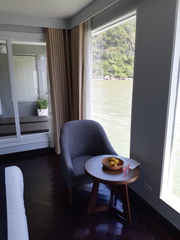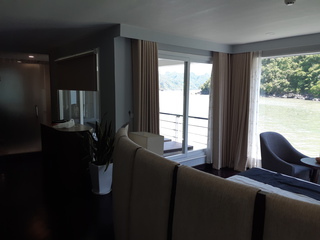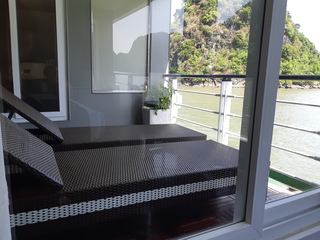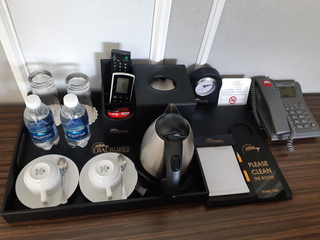 Staircase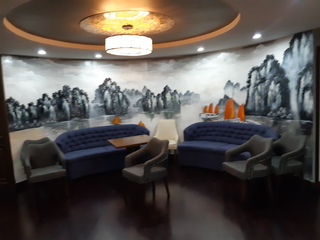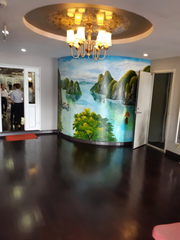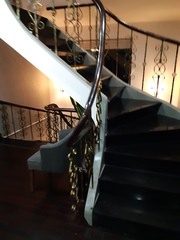 ---
If you want to relex a short time and also close to nature. I highly recommend to visit Lan Ha Bay. They offer 2 days 1 night and 3 days 2 nights tour. Go check out the cruise for more information. 😃