VinGroup - the biggest enterprise in Vietnam
---
As a foreigner who lives in Vietnam, it is easy to notice that a lot of great services which all provided by the same conglomerate. The services like real estate, tourism & hotel, healthcare services, education, commerce, entertainment, fitness and beauty care... all can hear the same company name start from "Vin". Yes, the enterprise I am talking about is VinGroup. It is also be called as the biggest enterprise in Vietnam.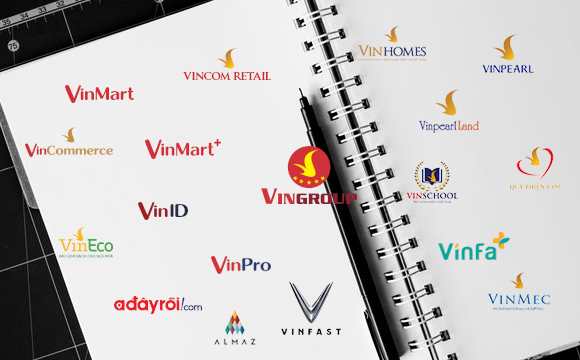 ---
# Commerce
Shopping!!! If you have experience to live in Vietnam, I think you must also have shopped in one of these stores.
VinMart: convenience stores
VinMart+: supermarket
VinPro: electronics stores
VinDS: home and beauty stores
adayroi.com: e-commerce
Recently, the VinGroup release the groupcard service called VinID. If you use the card to shop in VinGroup's shops, you can get Vinpoint for a direct deduction on your bill during transaction at the shops. 1 Vinpoint is equal to 1,000 VND
---
# Tourism
VINPEARL: hotels & resorts
VinpearlLand: amusement parks
ALMAX: high-end restaurant and conference centre
Vinpearl owns major resorts in Vietnam such as Vinpearl Nha Trang, Vinpearl Da Nang and other projects such as Vinpearl Village, Vinpearl Hai Giang
---
# Vinpearl Land
Vinpearl Land lies on the Hòn Tre island which was originally used as a jail in the past. It is now a resort island with a water park, amusement park, and a large 5-star hotel.
Vinpearl's transportation from the main land to the island is by the Vinpearl Cable Car and by powerboats to Vinpearl.
---
# Hospital
Vinmec: hospital
VinFa: pharmaceuticals and traditional medicine
Healthcare including Vinmec International Hospital, Times City Hanoi, Vinmec Royal International
---
# Real Estate
Vincom: shopping malls

Vincom Centre
Vincom Plaza
Vincom Mega Mall
Vincom+ mall

Vinhomes: residential real estate development (Landmark 81, Times City)

Landmark 81: a super-tall skyscraper. It's the tallest building in Vietnam and the tallest completed building in Southeast Asia as of July, 2018 and the 14th tallest building in the world
Times City: is a community in Hanoi, which includes many functional areas: apartments, commercial centers, hospitals, schools, parks, lakes, swimming pools, aquariums, squares with typical water music stage ...
Landmark 81 in Ho Chi Minh City, Vietnam
Times City in Hanoi, Vietnam
---
# Others
Vinschool: education from kindergarten, elementary school, middle school to high school, with a total of 13,000 students enrolled.
Vineco: agricultural production, operating 14 farms spanning 2,000 hectares (7.7 sq mi)
Vinfast: automobile, cars and motorbike manufacturing, planning to release first model
Quy Thien Tam: charity. philanthropical organisation on behalf of Vingroup
---
# VinGroup
VinGroup JSC is engaged in the lots of fields as the list above and help this country to grow up. The company was founded by Vuong Nhat Pham on May 3, 2002 and is headquartered in Hanoi, Vietnam.