How to Read a Vietnamese Receipt
---
Whenever got a receipt from a shop or supermarket, would you read the content of it? As a foreigner, reading a Vietnamese receipt might have a bit effort. But in fact, it is very easy. Let's learn how to read it by using a sample receipt from VinCommerce. 🤗
# The Layout
The left side is the original receipt, and the right side is its layout. We can divide it into four parts:
Seller information
Receipt meta
Item list
Blance
# Part 1: Seller information

The left side is the shop's brand name and its logo.
The Right side is its contact information. Address and phone number.
VinCommerce belongs to VinGroup, the biggest enterprise in Vietnam.
# Part 2: Receipt meta

HÓA ĐƠN BÁN HÀNG: bill of sale
Ngày bán: selling date
Quầy: the number of checkout counter
# Part 3: Item list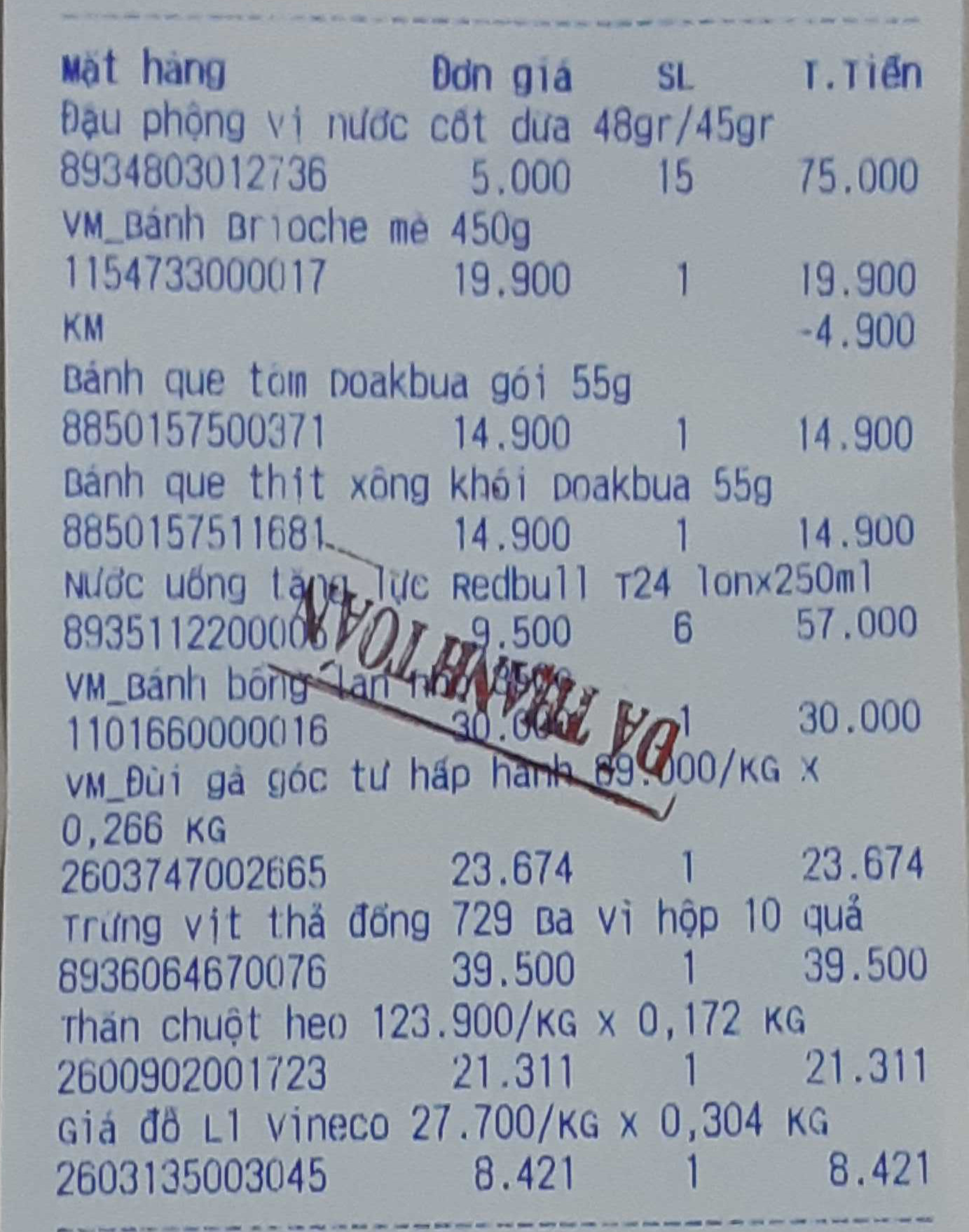 Mặt hàng: item
Đơn giá: unit price
SL: quantity
T.Tiền: subtotal
For example, the first line address 15 packs item (peanut product), each one cost $5,000 VND, subtotal is $75,000 VND
Đậu phộng vị nước cốt dừa = Peanut flavored coconut milk
# Part 4: Blance

TỔNG TIỀN PHẢI T.TOÁN: total price for calculating
TỔNG TIỀN ĐÃ GIẢM: discount included
TIỀN KHÁCH TRẢ: the payment from customer
TIỀN MẶT: pay by cash
TIỂN TRẢ LẠI: the money should return
Giá đã bao gồm thuế GTGT: the price is tax included
---
# To sum up
By reading this receipt, I can quickly understand some key points:
Time: the trade is happen at pm 14:11 on March 15th in 2019
Location: the trade is happen at VinMart Thang Long, Cầu Giấy district, Hà Nội
Transaction amount: the customer paid cash $500,000 VND, and the cashier return $200,000 VND.
🤗😂💸